There are lots of types of pork roasts, however my favorite is the loin roast (boneless or not), which is lean on the inside with just the right amount of fat on the outside.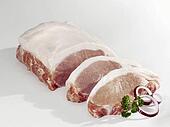 Boneless Pork Loin for Roasting

For this recipe I used the boneless kind, all fat trimmed off except the fat on the top. Then I "butterflied" it and laid it flat. You can use this method with most types of loin roasts, including lamb, and you can use this method to add stuffing if you like. This time I did not. Click this link to watch a video on how to butterfly a loin roast (this chef removes most of the top fat... I don't)
http://www.youtube.com/watch?v=ggLP60GMXeQ&feature=related
Here's the recipe:
Time: 1 1/2 hours (or more)
Effort: Easy
Serves 4
Ingredients
1 small boneless pork loin roast
2-4 tsp fine sea salt
1 tbsp oil - such as canola
1/2 cup dry white wine
Turn oven on to 425o. On a large cutting board, butterfly your roast (as shown in the video) and lay flat. Sprinkle with 2-3 tsp salt and sub all over top and bottom. In a shallow baking dish, sprinkle oil and remaining salt. Lay the roast flat in the dish, with the fat facing upward. Bake in oven for approx. 45 minutes at 425 degrees, then reduce the heat to 395 and add wine scraping the bottom of the dish so that it starts to form a sauce with the wine, baste the roast. Return to oven and bake for another 25 minutes or until the top is crisp and the meat very tender.
Crisp Pork Loin